Szaleństwo zakupów ruszyło na dobre. Witryny sklepowe prześcigają się w prezentacji świąteczno- noworocznych stylizacji. Szukamy inspiracji, aby nasz prezent sprawił radość, gdyż nie ma nic cenniejszego niż szczęście bliskiej osoby. Wybieramy pomiędzy książkami, kosmetykami, biżuterią a kolekcjami modowymi. Odważniejsi sięgają po bardziej oryginalne prezenty.  
Jeśli nie masz kompletnie pomysłu na upominek dla koleżanki, warto wybrać coś nowego, zdrowego, naturalnego i coś co ułatwi każdej kobiecie funkcjonowanie, czyli kosmetyków nigdy za mało.
Oto naturalne perełki kosmetyczne, które dla Was wybraliśmy.
MAGICZNE PREZENTY OD D'ALCHÉMY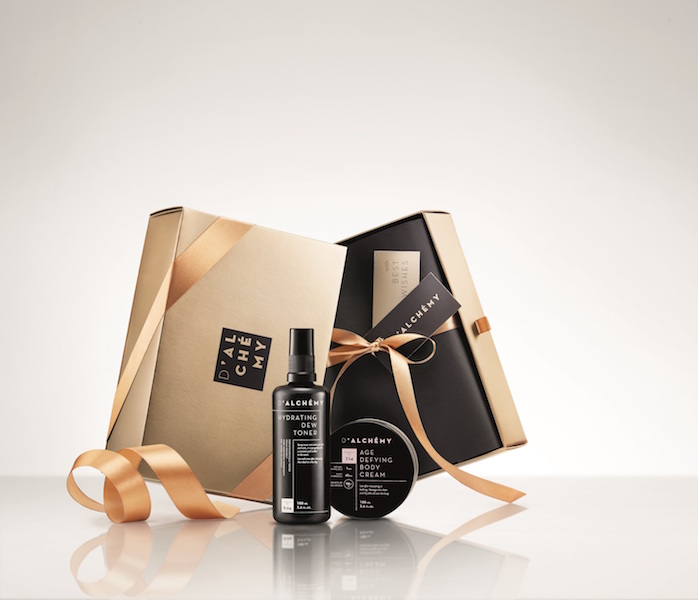 Nagrodzone tytułem Doskonałość Roku 2018 organiczne kosmetyki D'ALCHÉMY skutecznie odmładzają skórę, uwodząc wspaniałymi zapachami naturalnie czystych olejków eterycznych.
Wystarczy samodzielnie skomponować swój wymarzony zestaw, który zostanie zapakowany w wyjątkowe, luksusowe opakowanie świąteczne. Niepowtarzalne prezenty znajdziesz wyłącznie na https://dalchemyskincare.com/
CREAMY SERUM OLEJOWE YOUNG CACAY Z WITAMINĄ C
Olejowe serum anti-aging Young Cacay z 10% witaminy C, koenzymem Q10, kwasem lipohydroksylowym, ekstraktem z solirodu zielnego i absolutem jaśminowym. Rozświetla, odżywia, wyrównuje koloryt skóry, wzmacnia, regeneruje. To 100% składników aktywnych. Polecane szczególnie dla cery normalnej, mieszanej, tłustej, z przebarwieniami, naczynkowej, dojrzałej.
Creamy Serum Young Cacay to połączenie starannie dobranych składników. Olej konopny – szczególnie polecany w pielęgnacji cery mieszanej i tłustej – pomaga regulować poziom sebum, dzięki czemu zmniejszymy możliwość błyszczenia się skóry. Olej z pietruszki oraz olej cacay to składniki, które pomagają przedłużyć młodość skóry i znacznie poprawia jej kondycję. Serum zawiera także ekstrakt z solirodu zielnego, który poprawia nawilżenie. Oprócz olejów znalazła się tu multifunkcjonalna witamina C, która w połączeniu z koenzymem Q10 i kwasem lipohydroksylowym dodaje cerze blasku i zwiększa jej elastyczność.
BANDI ECO FRIENDLY CARE TRÓJAKTYWNY PEELING DO TWARZY
Oczyszczający peeling Bandi na bazie naturalnych składników aktywnych polecany do cery zmęczonej, szarej, pozbawionej blasku. Usuwa martwe komórki naskórka, zanieczyszczenia i nadmiar sebum. Wygładza, rozświetla i wyrównuje koloryt skóry.
Zawiera 97% składników pochodzenia naturalnego. Hypoalergiczny, nie zawiera substancji zapachowych, barwników ani surowców potencjalnie drażniących. Testowany dermatologicznie na skórze wrażliwej.
BABO MASKA PEELING DO TWARZY PRZECIWZMARSZCZKOWA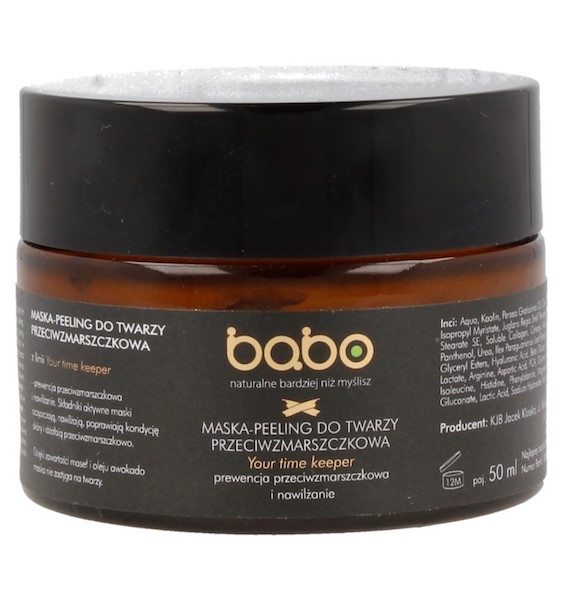 Najnowszy produkt marki babo, czyli maska-peeling przeciwzmarszczkowa. Kremowa maska na bazie glinki, nie zasycha. Dzięki łupinom z orzecha włoskiego można wykonać peeling. W składzie maski znajdują się: beta-glukan z drożdży, betaina z buraka cukrowego, ekstrakt z yerba mate, kwas hialuronowy, kolagen natywny, masła i wiele innych ciekawych składników. Maska oczyszcza, nawilża, działa przeciwzmarszczkowo.